From September 2018 the 14th board is in charge of S.A. Astatine, consisting of: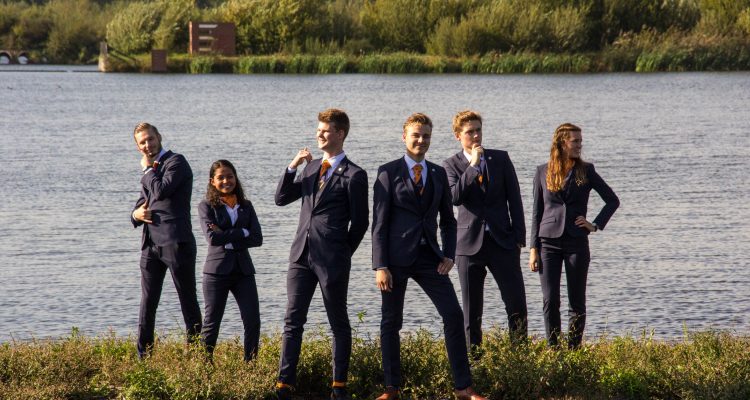 ---
Rik Seelen – Chairman
In the year 2018-2019 I am the Chairman of S.A. Astatine! In previous years,  I have organised the Europe Trip with the BuCom, I have been a proud member of BOSS since my first year and have done numerous other committees besides. As Chairman, I will be present in a several meetings all over University, and during this year specifically a lot of meetings regarding the moving of Astatine. Also, I have quite some free time, meaning that I can tkae on some different projects!
Besides being Chairman, I am taking diving courses at Piranha, try to play piano once in a while and will take part in the SSA, the Study Trip to South Korea in 2019. 
Op de hoogste!
Jons Bolding – Secretary
Dearest reader,
I am Jons Bolding, a (currently) 19 year old guy who decided 2 years ago to come and study Advanced Technology. Who could have known that this choice would turn out very good. I currently am the Secretary the 14th board of S.A. Astatine. While this is an unique function, it does not tell a lot about me. I was interested in this specific function since it offers me the opportunity to work on things that I like. To be able to build on what has already been build, an association with its own traditions and members which are the foundation of Astatine. Everyone always says that as board you are there for the members. This is true, obviously. You work for them, you work with them and you relax together when it is time to release some stress. At the end of (hopefully) my board year, I can look back with a proud feeling what we achieved together!
Op de hoogste!
Bram Schotpoort – Treasurer
Greetings from the treasurer of S.A. Astatine! I couldn't be more thrilled to announce that I will be handling all the money business within Astatine next year.
Half a year ago it didn't even cross my mind to sign up for a board year at Astatine. It was way too much out of my comfort zone. However, later on, it became clear that it is an incredible opportunity to develop myself as a student as well as a person. So eventually I signed up for a board year and here I am, super pumped to be the board of S.A. Astatine!
I must admit that I am curious how I will experience a year (almost) without studying. I have never taken a break like this from studying, so to quit studying for a year will also be a whole new experience. I am determined to keep playing tennis next to my board year. I am a person who loves being active in outdoor sports. That is also part of the reason I have been a member of the SportCo for two years now.
All in all, I am going to enjoy every bit of it, and I hope that in one year I can look back at a fantastic experience of a board year that I have been fortunate enough to be part of.
Op de hoogste!
Laura Rodriguez Comas – Educational Affairs
Hello there!!
Upcoming year you will see me around as the Commissioner of Educational Affairs of S.A. Astatine. My name is Laura Rodriguez Comas, or to make it easier just RC. I am 21 years old and originally from Colombia, but you can speak to me in English, Dutch, Spanish or Papiamentu if you desire.
First, I like to think that as an international student I did not come all the way to the Netherlands just to study. Being in a board gives the chance to develop a lot of skills but also to develop yourself as a person. Also, two years ago I was new both to Enschede and to the Netherlands. In a new country and for the first time away from my home, Astatine gave me a place where I could feel home again and it gave me the chance to get to know more persons, develop skills I didn't know I had and become more social (work still in progress). Thanks to that I enjoyed my first year and finished it successfully. Because of all that, on my second year I decided to apply for the 14th board of Astatine.
Besides being board next year I want to work on improving my dancing and trying to get fluent in Dutch. I hope that after a year I can look back and be proud of not only achieving those two goals but also of my work done at Astatine.
Op de hoogste!
Laura Berkhof – External Affairs
Hello everyone!
After two years of studying, I was eager for a change. Ready to do something else than studying, ready to learn more about what I want, and ready to have a fun and exciting year! Therefore I applied to be in the 14th board of S.A. Astatine, and now I am the candidate external affairs.
As extern, I hope to organise interesting and exciting activities, to orientate members on what they can do after their studies.
Now a bit about myself: My name is Laura Berkhof, I love to travel, and besides this, I like to watch series, read a book, once in a while exercise a bit, and occasionally drink a bit too much.
Op de Hoogste!
Ralph Brantjes – Internal Affairs
Hi everyone,
My name is Ralph and I am the Commissioner of Internal Affairs of S.A. Astatine. My job is to get as many people as possible active within the association. As Commissioner of Internal Affairs I have a lot of time that I can plan myself. This means that I can make plenty of time to work on my own projects.
Two years ago I never thought that I would become a board member of Astatine. But look at me now! This year I am planning to learn a lot, make new contacts and of course, have loads of fun.
Op de hoogste!