From September 2010 till September 2011, the 6th board was in charge of S.V.A.T. Astatine, consisting of: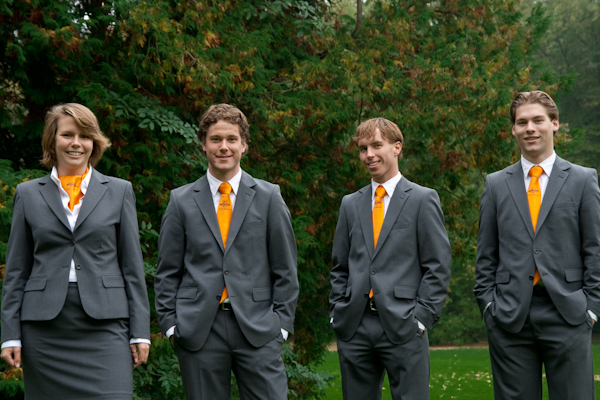 From left to right: Monique Parfitt, Alexander Hulsker, Jelmer Boter, Wessel Straatman
Jelmer Boter – Chairman
"I have a dream"
It was with this phrase that my life began twenty years ago. On their own, they are all just simple words, but together they form one of the most famous phrases in human history. It was Martin Luther King Jr. who spoke them on the 28th of August in the year 1963 in his famous speech on the stairs of the Lincoln Memorial. His dream was that one day all people, black and white, will be treated the same: "all men are created equal". It was this fight for equal rights for which he received the Nobel Peace Prize in 1964.
My life started almost 27 years after this speech on the 11th of August 1990. It was on this hot summer day I came into the world, just a few kilometres away from here in Hengelo. Nine months later I moved from Twente to Zeist. I spent my entire childhood there until my roots began to scream two years ago and I moved back to Enschede.
My school career doesn't show any details, until 5VWO when I started to attend the Junior College Utrecht. This is a part of the University of Utrecht intended to challenge gifted pupils in the four beta-courses. All of this led me to leave secondary school two years ago with two diplomas. The choice to head for the University of Twente and study Advanced Technology was a tough one, but until now it wasn't a bad one.
To stay in shape a bit I like to run a few times a week and with some nice weather, I enjoy to bike on the Utrechtse Heuvelrug. Almost as nice as sporting yourself is to watch sports. For me, it's no problem to spend an afternoon on the couch watching television for a stage of the Tour de France or a marathon.
I really enjoy to be busy with others and organize nice activities. One of the places where I can do this is Scouting. Since 1996 I am a member of a group near my parents' place and I'm a leader for four years now. Although they can be very annoying, it is nice to give starting adolescents a good Saturday afternoon. Last summer I went to Kandersteg in Switzerland to the largest Scout site in the world. Ten days of survival and meeting other Scouts from all over the world is fantastic.
Being active in committees for S.V.A.T. Astatine is another possibility to organize activities. Although the choice to be active, wasn't simple, I haven't had any regret of it. I have been active in the ATAC, BOSS, KITCAT (really, not ICAT) and I was treasurer of our beloved basement, the Tombe. Of course, this isn't everything: I was a member of the BBQc and now I'm part of the sixth board of S.V.A.T. Astatine. Together with Alexander Hulsker, Wessel Straatman & Monique Parfitt I will be running our association this year. I'm really looking forward to it. I hope we can really add something in the coming year so that all members will have more advantages from our association.
I really hope to see you all at one of the activities of Astatine and together we are going to make it a beautiful year!
To end where I started: everybody has dreams and the dream of Martin Luther King Jr. came true and I hope you will manage to get your dreams true! Maybe we can help you.
Alexander Hulsker – Secretary & Educational Affairs
Despite only being candidates at the moment of writing this article we have been asked to write an article about ourselves.
Most people will already know me, or at least know who I am, but I will introduce myself anyway. My name is Alexander Hulsker, born in Leidschendam but raised in Wijk bij Duurstede. Currently, I am a second year student waiting for the holidays to begin. After the holidays hopefully I will become the 6th commissioner of educational affairs of S.V.A.T. Astatine.
Having spent a great part of my life at the receiving end of a classroom I find it interesting to finally get the opportunity to get to know the other side of education. This explains the main part of my choice of wanting to be the next commissioner of educational affairs.
Next year will be an exciting year for me and Astatine. As you might have noticed this article is written in English as will a great deal of other Astatine publications in the future. As a team, we will work together to make Astatine a more international oriented study association to welcome new members from abroad.
You already know my name and where I come from, so I might just as well tell some more. Besides being a second year student (and remainings of the first year) I like to hang out with friends, listen to music (tried some myself, wasn't a big success) and when the weather is nice you can find me on the golf course in Maarsbergen at G.C. Anderstein.
In the past I have been in one committee as the commissioner of transport in the NiCat, to help organize the introduction weekend in October. This weekend takes place one month after the Kick-in and is a great way to do it all over again and to get to know your fellow students a bit better.
Enough about me, what will I be doing when I take Enzo's place in the board? As commissioner of education of course I will be busy with selling books, but I will also take my place in the OLC and OOC as representative of S.V.A.T Astatine and its members. If you come across any problems involving education I will be the one to address, the same goes for good news as well.
Still having the holidays ahead of me I'm looking forward to starting the new year as a board member, and for once not as a student. You will see me around when you are reading this in your Kick-in.
Wessel Straatman – Treasurer
Even though we are still candidates at the moment I'm writing this, the Attencie is forcing me to write an introductory article about myself. I'm sure that red dot I saw was Pim Muilwijk's sniper rifle, so I'll make sure to obey them. Oh well, it's all part of the deal I guess.
Well then. I'll start with an introduction. I'm Wessel Straatman, born in Utrecht and raised in one of its suburbs called IJsselstein. Hopefully, I'll become the 6th treasurer of S.V.A.T. Astatine, and the 1st chief Internationalisation. As from this year, Advanced Technology is becoming a full English-speaking study. So there's a great challenge lying ahead of us, the candidate board.
Being the candidate treasurer, I should probably have something with numbers. I will become the 6th treasurer and 1st chief internationalization, if you substract those two you get 5 and that is the age Astatine turns this year! I'm sure that will be one hell of a party.
Also, if you combine the ages of the candidates, and substract the number of girls in this board multiplied by 6, since we're the 6th candidate board, you get 85! What a coincidence!
But of course, there's more than numbers. I'm sure I could make these coincidences go on until I've predicted the new end of the world as we know it, but since that time will hopefully lie beyond my term as a board member, it is not of my concern.
It is an exciting year for Astatine. It is not only Advanced Technology that is turning English, Astatine is gradually turning English as well. It will be one of my goals to ensure that this transfer will be a smooth one, and that all foreign students will feel at home.
A bit more about me then. You already know my name and my place of birth, but that's about it. I was born the 2nd of April (so yes, I was close to really being a joke) in the year 1990, so that makes me 20 year old at the moment. When I'm not studying I like to play sports or just chill and listen to music or play games on my computer.
I'm a member of Messed Up, the floorball association in Enschede. Since most of the people don't know what floorball is, it's basically the unihockey you probably played in high school. It's an indoor version of ice hockey. I would invite you all to come to try it some day.
When it comes to music I occasionally visit gigs of my favourite bands. Music I like varies from Muse to Queen and from The Killers to Pearl Jam.
For Astatine I have been in several committees. In my first year, I was the chairman of the 'OuCie', responsible for ensuring the parent day went well. In my second year, I organized a gala for 4 study associations together with 4 others. And if that wasn't enough I also joined the BuCom. The BuCom is the committee that arranges the short study trip abroad. It is a 5 day trip where we visit several interesting companies and institutes.
We arranged a trip to Switzerland. We started in Leverkusen, were we visited the huge chemical company Bayer AG. We also visited the technical university (ETH) of Zürich, and a space engineering company called RUAG Space. But the highlight of the trip was, of course, the visit to CERN. Even though we didn't get to see the Large Hadron Collider we were showed and told a lot and it was a great experience.
There we go. I hope you now know a bit more about who I am, what I do, and what I'm going to do. If not, do not hesitate to ask me. I'm sure I'll see you all at Astatine sometime soon.
I'd advise you all to make the most of your study. Of course, your study is important, but doing fun activitities together with your study mates is a lot of fun.
I hope to see you all soon and wish you all a great year! "Op de hoogste"!
Monique Parfitt – External Affairs
I am the new commissionair for external affairs in the sixth board of S.V.A.T. Astatine! But who am I actually? Let me start from the beginning…
On the nineteenth of May 1990, the world was a small baby girl richer. Thrilled by the birth of her small sis, my twelve year old sister started to carry me around in her backpack and show me to the world. After I learned to walk and talk, I started ballet lessons, just like every small girl goes. Unfortunately, according to my dad, I was the worst ballet dancer he had ever seen, so my ballet career was not that long. After ballet, I started to play tennis and I enjoyed it for about ten years. Again unfortunately, I got a chronic back ache, so I had to give up training, but a match once in a while is always fun!
In the sixth form at primary school, I also started to play the clarinet, after three years of recorder lessons. I played in various orchestras and ensembles and I enjoyed it a lot. When I went to university I decided I had to decrease the time spent with my clarinet, since I had a study to complete. I do still occasionally play, in a ska band called Ciska de Rat.
So two years ago I started Advanced Technology, but what made me choose AT? Well, I always was broadly interested, but I was inclined to study medicine. Unfortunately, I was not that sure about it, so my parents sent me for an aptitude test. The result said that I was broadly interested, but that my talent was in the beta area. So they advised me to search for a technical study, specifically technical medicine. So I went to the website of Twente University and found Advanced Technology. I thought this might fit even better, since it was broader and if I still wanted the medical aspect, I could always go there for my master's. And now I am here, hoping to become a member of the board of the study association of AT!
Since I started my first year here, I have taken an active part in the various committees of Astatine. In my first year, I was in the ATtenCie and in the ICAT (introduction committee). In my second year, I decided I wanted to organise another Kick-In and I joined the BOSS. I became a candidate for the sixth board of Astatine, which automatically made me sit on the BBQ Committee.
I think becoming an active member of an association really adds value to your period as a student. You learn so much more than by only studying! So I would really advise everyone to join at least one committee a year, you will definitely benefit from it!
Besides Astatine, I also participate in the weekly zumba lessons and I am a member of S.D.V. Chassé, the jazzdance association (indeed, I restarted my dancing career, despite the negative advice from my dad…). I also like to cook and bake, and two of my best friends are my cats, Dushi and Fibonacci, who still terrorise my parents' place.
I hope I will be able to collaborate with many companies and departments in the coming year. Money is an important issue for our association, the more money I can attract, the more fun stuff we can do together! So it will be exciting if a lot depends on me, maybe even a small burden if I should fail, because everyone at Astatine will notice it,. But at the same time, the task ahead offers true motivation and I am determined to do the best I can!
At the bottom line, one thing is even more important than money: our members. Ultimately, they are who I hope to serve, and they are to judge my ability and performance.
Pending that, if you have any questions or just want a quick chat, please feel free to drop in on me. I will be spending a lot of time at Astatine, and I hope to see you there as well!
Email them at 6ebestuur@astatine.utwente.nl