Each year all teachers of the University of Twente have the chance to win the educational award. The nominees for this election are the winners of the educational awards of the various studies. Advanced Technology has been awarding the educational award since the study year 2007-2008.
Winner 2017 – 2018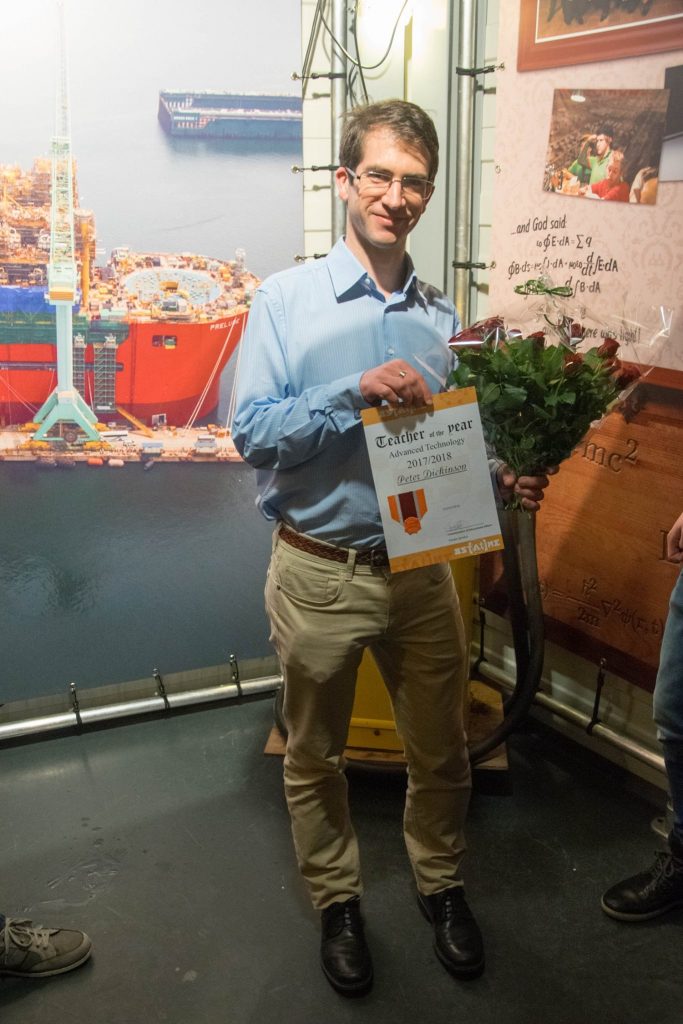 We are happy to announce that the AT teacher of the year 2017/2018 is Peter Dickinson!
He taught first-year students the course mathematics in the first and second module of the year.
Previous winners of the educational award for Advanced Technology are:
2016-2017: James Seddon
Course: MOD 4 Dynamical Systems
2015-2016: Marcel ter Brake
Course: MOD 2 Thermodynamics
2014-2015: Ruud van Damme
Courses: MOD 4 Advanced Engineering
2013-2014: Ruud van Damme
Courses: MOD 4 Advanced Engineering, Introduction to Engineering III, Mathematical Modelling
2012-2013: Gertjan Koster
Courses: Materials Engineering I
2011-2012: Anne-Johan Annema
Electronic Basic Circuits and Functions
2010-2011: Miko Elwenspoek
Courses: Introduction to Engineering II
2009-2010: Leon Abelmann
Courses: Engineering of Complex Systems I & Engineering of Complex Systems II
2008-2009: Ruud van Damme
Courses: Fundamentals of Mathematical Methods, Introduction to Engineering III & Mathematical Modelling
2007-2008: Andre ten Elshof
Courses: Materials Engineering I & Materials Engineering II