After the half-yearly general assembly on the 7th of March 2007, the members could pick up a form, if they were interested in becoming candidates for the new board. From the people who filled out the forms, the new BBQ-committee was formed creating the 3rd board.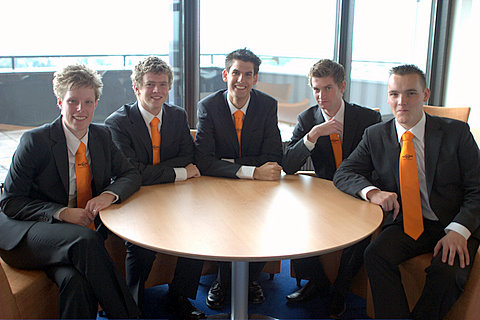 From Left-Right: Ellen Norde, Matthijs Oomen, Maarten Flink, Robert Kommer and Jeroen Jansen
Chairman: Maarten Flink
Secretary: Matthijs Oomen
Treasurer: Robert Kommer
Commissionar of External Affairs: Jeroen Jansen
Commissionar of Educational Affairs: Ellen Norde
They were chosen as the board, with the approval of the general assembly, on the 26th of September, 2007.
At the beginning of the year, many excursions had been organised, among others, to Huisman-Itrec and DSM. A few others were on the schedule.
After the third board has started their duty, different committees organised many activities. Excursions to DSM and Urenco took place; the ATAC organised a bowling activity, a pub quiz and a poker evening. Some bigger activities, such as laser gaming and paintball, were also organised. Astatine members also got the chance to be sportive in the Batavierenrace, the Astatine games, the skating activity in Deventer and two 'knotsbal' teams were set up.
The Dies was celebrated with pie in the Astatine room and in the evening all former board, and the Advanced Technology staff provided dinner.
In December 2007 our own borrel committee (the BOSS) was established, and on January 9 they organised the first drink in the Tombe in the Hogekamp.
The first BuCom organised exclusively for Astatine members was organised in May and went to Leuven, Oxford and Londen. The company visits were tot IMEC (Leuven), JET (Oxford), RAL (Oxford) and BBC (London).
The symposium about 'Artificial Evolution, were robots get new purposes' was organised together with E.T.S.V. Scintilla. The program consisted of seven speakers about robots and their tasks.
The BBQCie was formed halfway through June, and the new candidate board was presented at the BBQ.
Chairman: Bas Haarman
Secretary: Geert Folkertsma
Treasurer: Ramon Tummers
Commissioner of External Affairs: Auke Been
Commissioner of Educational Affairs: Niki Kluit
They started with full enthusiasm to set up their policy, so they would be able to enter the board in September.
For the first time, the faculty introduction was almost entirely organised by Astatine only. Some of the activities were a GPS hunt and building water rockets.