On September 22th, 2010, the fifth board was replaced and the sixth board was put in charge.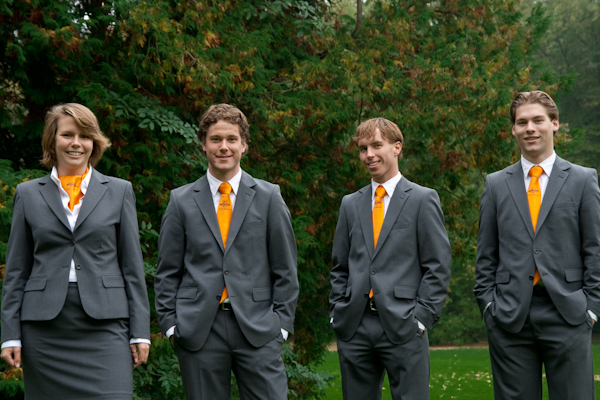 From left to right: Monique Parfitt, Alexander Hulsker, Jelmer Boter, Wessel Straatman
Chairman: Jelmer Boter
Secretary & Commissioner of Educational Affairs: Alexander Hulsker
Treasurer & Commissioner of Internationalisation: Wessel Straatman
Commissioner of External Relations: Monique Parfitt
Astatine celebrated her fifth birthday on the 23rd of December 2010, so the first lustrum characterised the whole year of the sixth board. The theme for this first lustrum was 'Small going big' which reflects both the association which becomes bigger and the subjects treated in the study ranging from the nanoscale to the largest structures.
On the 10th of December 2010, Astatine organised a symposium in cooperation with the NFI, KNCV and MESA+ about the use of Lab on a Chip in crime investigation. A topic with a little wink to the lustrum theme. To show the future of crime scene investigation a symposium was organised, with as subject the use of lab-on-a-chip technology in forensics. Devices known as a 'lab-on-a-chip' (LOC) can speed up the analysis, are compact and can be easily integrated and used by people who are not technically trained. It was a very successful day with a broad range of speakers, talks and participants. Forensic research is definitely multidisciplinary, and still, new developments are made!
This was the first symposium which was organised without another association.
On December 20 the Executive Board of the University of Twente designated the attic of Carré as a new borrel location for C.T.S.G. Alembic, S.V. Arago and S.V.A.T. Astatine. After a quest of almost a decade, there was finally a decision in this file.
Between the 9th of February and the 16th of February, the first lustrum of Astatine was celebrated. The lustrum was opened with a 100 person relay drink, the burning of the Astatine logo and a big party. Some other activities during this fantastic week were a High Tea with Albert van den Berg as speaker, abseiling, a science pub quiz, a gala dinner and of course the final party in the 'Drie Gezusters' with 'Oranje boven' as the theme.