From September 2016 till September 2017, the 12th board was in charge of S.V.A.T. Astatine, consisting of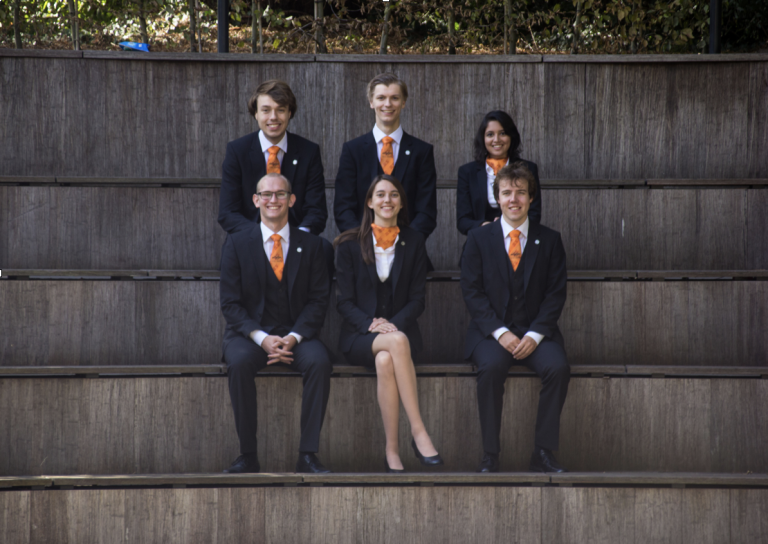 From top to bottom, from left to right: Douwe Schotanus, Kasper Hendriks, Nehal Mathur, Cham Bustraan, Daphne van Dijken and Jan Eggenkamp
Daphne van Dijken – Chairwoman
This year, Daphne was guiding S.V.A.T. Astatine as chairwoman of the 12th board. She has been active at Astatine as part of the ATtenCie, FlitCie, KitCat and Lustrum committee. Using the skills she has learned from being the chairwoman of the KitCat, it was time to step up her game and proceeded to lead the entire association. Besides being a board member, Daphne was working at an Escape Room in the city and part of the administration committee of the study trip, which will be going to the United States of America and Canada in the summer of 2017.
Kasper Hendriks – Secretary
The quality of the textual remains of the 12th board was ensured by Kasper. The digital remains that is, as his handwriting is not as neat as hoped of someone fulfilling the position of a secretary. If you cannot find him in the boardroom, chances are he is playing video games, dancing or playing the piano.
Nehal Mathur – Treasurer
It's all about the money. This year, Nehal Mathur, the spunky international student from India was taking care of the finances of S.V.A.T. Astatine. With her impeccable bookkeeping and organizational skills, she was representing the blood of the association, nourishing its committees and enabling the organization of various activities. Not only was she the treasurer, she was also the commissioner of Internationalisation and helped in spreading internationalism through an already multicultural Astatine. When she was not at Astatine, she can be found either dancing, learning Dutch or following some modules.
Cham Bustraan – Educational Affairs
Cham Bustraan was the commissioner of educational affairs. With a keen mind and an eye on the future, he is sure to see to it that Advanced Technology is treated with utmost care. If you had any complaints he was there for you.
Jan Eggenkamp – External Affairs
Jan was responsible for the contact between companies and students. His goals were to show the students what their career opportunities are and what broad range of sectors they can end up in. When he is not doing this he is travelling somewhere or working on the study trip to the USA and Canada.
Douwe Schotanus – Internal Affairs
Douwe Schotanus was a 20 year old AT student living on the campus of the University of Twente in Enschede. He has been active in various committees at Astatine like the educational and foreign trip committee as well as a few others throughout his first two years of his academic studies. He was the commissioner of internal relations at Astatine. His personal interests include playing the guitar, swimming and going for a stroll. He's keen on further promoting the open and relaxed atmosphere at the association and is always in for a good conversation.
Email them at 12ebestuur@astatine.utwente.nl