From September 2012 till September 2013, the 8th board was in charge of S.V.A.T. Astatine, consisting of: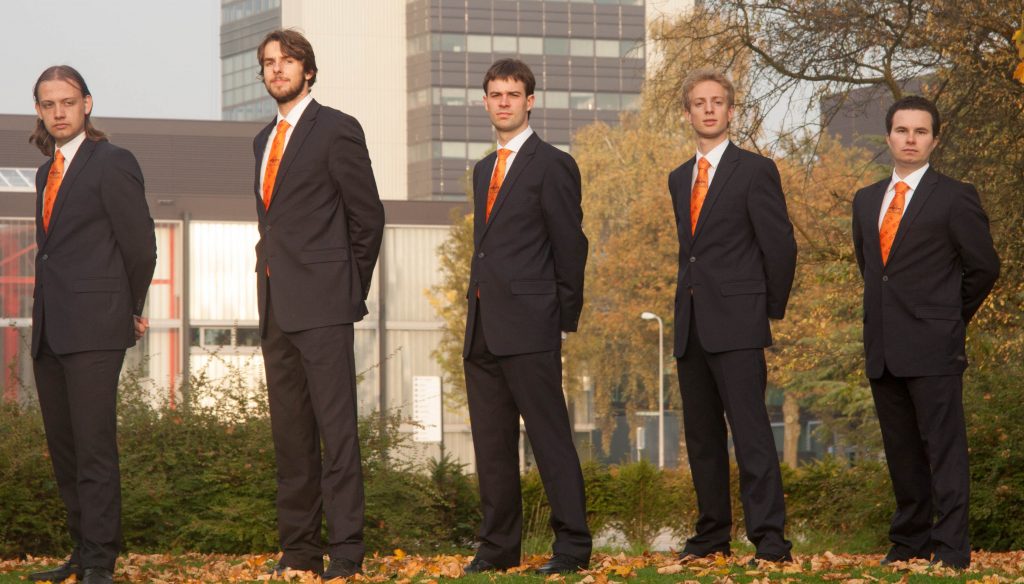 From left to right: Tom Heidotting, David van Duinen, Maximilian Stein, Alexander Haselhoff, Daan in den Berken
Maximilian Stein – Chairman
If you did not pay attention, it might escape you, that our Chairman is German. Born in Erhfurt before the fall of the wall and raised in Berlin. The last couple of years he was one of the active members in the IT committee keeping the servers of Astatine running smoothly. And now instead of keeping just the servers running smoothly, he keeps the whole association running smoothly. In his spare time, he likes to doodle around with Linux and loves to organize Balfolk. His moves are too smooth for you to follow.
David van Duinen – Secretary
They say the pen is mightier than the sword. David is the guy that wields that pen for Astatine. As secretary of the association, he keeps the minutes of board meetings and General Assemblies.
In his free time instead of wielding a pen, he wields a paddle. As a member of DKV Euros, he is often found in a canoe.
Alexander Haselhoff – Treasurer & Vice-Secretary
Our numbers man might have been born in the Netherlands, but he isn't fully Dutch. Nope, he is what some might think just hypothetical: a blond Italian! With the perfect blend of Dutch and Italian characteristics, he is hard not to like. As the second fulltime board member this year, he divides his time between managing the finances of Astatine and most of the task of the Secretary.
In his spare time, you can find him at Pro Deo, making you laugh or climbing with the TSAC.
Tom Heidotting – Educational Affairs
Tom is the closest thing we've got on the board when it comes to locals. And when he isn't getting surprised by snails, he is out with his camera making great pictures. As the commissioner of educational affairs, he closely involved and your go-to guy when it comes to education within Advanced Technology. He is supported in his task by the EduCo, the new education committee.
Daan in den Berken – External Affairs
Our commissioner of External Relations isn't the longest of men, though he is long-winded. His task has changed this year from the general management of the association and coordinating the board to External Affairs. He is supported in his task by the External Relations Committee.
When he isn't busy with Astatine he is either rock climbing, preferably in sunny locations, or scuba diving in the watery depths. Though you can also often find him with a good book.
Email them at 8ebestuur@astatine.utwente.nl