From September 2013 till September 2014, the 9th board was in charge of S.V.A.T. Astatine, consisting of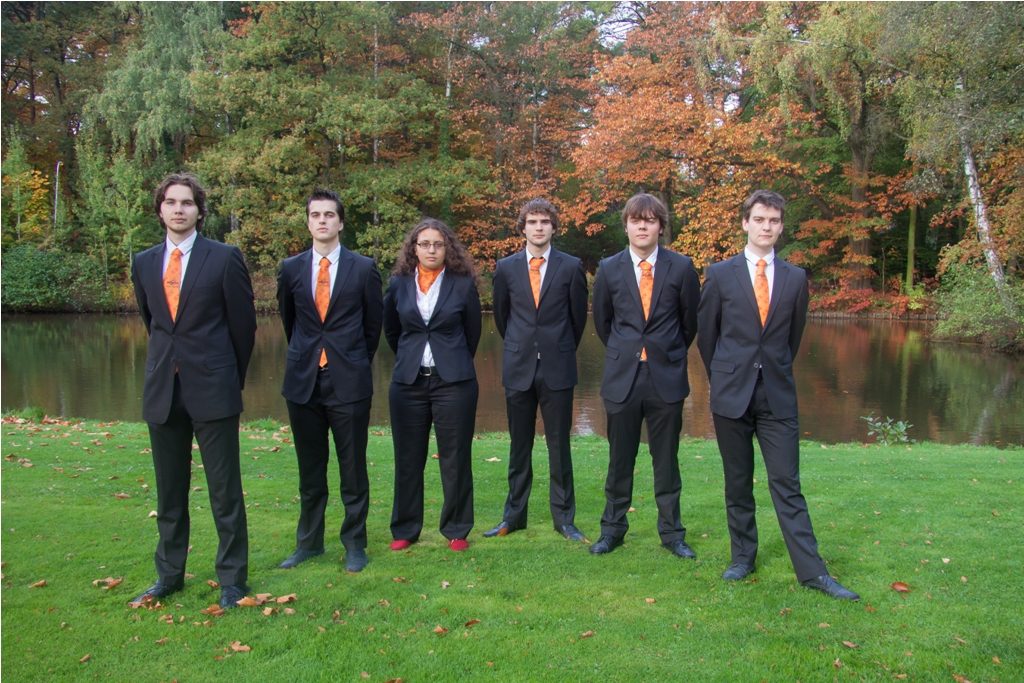 From left to right: Thomas Ganzeboom, Bernard van der Wel, Zahra van Egdom, Riccardo Sneep, Robin Hoogervorst, Koen van Alphen
Riccardo Sneep – Chairman
Riccardo Sneep will be leading the association as our Chairman of the 9th board. He will make sure everybody does the job he is supposed to do. Coming already from Amersfoort, the centre of our country, he will also be the centre of the board this year.
Zahra van Egdom – Vice-chairman and Internal affairs
Zahra van Egdom is the vice-chairman and Commissioner of Internal affairs. She will aid Riccardo in everything he can not do as chairman, as we have a full-fledged board now. Besides that, as commissioner of internal affairs, Zahra will have the overview of all committees and is the person to go to if there is anything concerning committees.
Robin Hoogervorst – Secretary
Robin Hoogervorst is our secretary for this year of S.V.A.T. Astatine. His experience with programming and computer skills will help him to keep track of our members and make good reports of all meetings. Besides his regular tasks, he will be working on the ICT system to make the life of our members (and board) that much easier.
Bernhard van der Wel – Treasurer
The finances of Astatine are this year trusted to Bernhard van der Wel, our treasurer. His secure way of working will make sure we have a good overview of our finances and by double thinking about everything we spend, he will make sure we do not spend too much.
Koen van Alphen – Educational Affairs
Koen van Alphen is commissioner of Education. If there is any problem concerning the education of Advanced Technology, he is the person to go to. His experience within the OLC and regular interest in the educational system makes him the right person to do this job.
Thomas Ganzeboom – External affairs
The cooperation with companies is this year managed by Thomas Ganzeboom, our Commissioner of External affairs. Since he has grown up in Borne, he can be considered a local. His native speaking skills for the region Twente and enthusiasm for everything he does help him maintain the relations with our sponsors.
Email them at 9ebestuur@astatine.utwente.nl