On September 24th the third board was released of their tasks, and the fourth board was put in charge to bring the association further.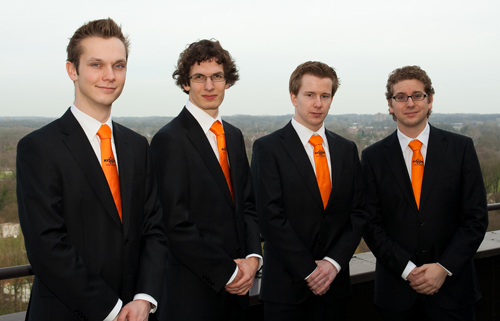 From Left-Right: Auke Been, Geert Folkertsma, Bas Haarman and Ramon Tummers
Chairman: Bas Haarman
Secretary: Geert Folkertsma
Treasurer: Ramon Tummers
Commissioner of External Affairs: Auke Been
The fourth board started in September as a five-member team, with great plans for the association. After building for three years, by the first three boards, it was time to consolidate, professionalise and continue to build a strong foundation for the future. Unfortunately, a short time into the academic year, one of the board members decided that board was not really their thing after all. This required some re-organising, but in the end, most of the plans came to fruition, thanks to dedicated, (more than) full-time commitment of the remaining four board members.
The chairman, Bas Haarman, worked not only within Astatine but took an active part in many university-wide collaborations. The secretary, Geert Folkertsma, set up many administrative systems (ANNA, ASS and LDBS being the more notable ones). Ramon Tummers, the treasurer, also streamlined many financial processes, with the Treasurer app as a culmination of this work. Finally, Auke Been, external affairs (and education, taking over from Niki Kluit), professionalised the association and its image for companies.